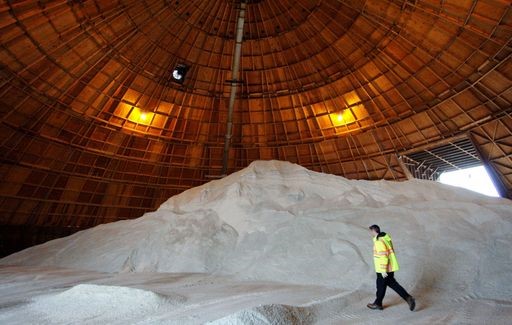 A.J. Services started in 1970 as a family owned and operated service-oriented company. Our services included snowplowing and snow removal of Commercial and Industrial properties. Over the years ice control services have become a large part of our operations, with property owners that could ill afford rising liability claims due to falls from snow and ice. Our business has grown over the past 52nd years that we now dedicate our entire efforts to the snow removal and de-icing operations year round for our customers. The snow removal business is a very complex and busy business. There are contracts to secure, equipment repairs to be made, replacement of old equipment with new needs to be assessed, vendors for de-icing material need to be sought out and pricing has to be negotiated for current year deliveries, and continual training of our employees new and old; yes, it certainly has become a year round operation.
Located in Prairie View, IL, just north of Wheeling, A.J. Services has grown from (1) ½ ton pickup truck to over 20 pieces of rolling equipment, becoming one of the premier snow removal companies in the Wheeling, Buffalo Grove and Lincolnshire area. This is partly due to the fact these are our main areas that we service. During those early morning storms we can ill afford having our drivers trying to reach job sites tied up in traffic for hours, while you and your employees sit outside your parking lot waiting for it to be plowed.
In the winter months we do not contract to residential, single family homes, but focus on our commercial and industrial customers only. This is to assure that our customers receive prompt service. The kind of service you need to eliminate any down time of business due to heavy winter storms.
We all need to remember:
Snow fighters are not miracle workers. They are dedicated, hardworking human beings who work endless hours and put their will against the forces of nature. Through their determination and skills, most times usually win!  The real record of their accomplishment is not the tons of snow removed or the endless miles of pavement kept cleared; the testament of a good snow fighter is the achievement of keeping roadways and parking lots cleared that allow business and industries to function and to allow people to travel safely without undue delay.
Here at A.J. Services that has been our testament and pledge for over 50 years as a Professional Snow Plowing and Ice Control Company.  Remember, whether it is plowing snow, applying deicers, or moving and relocating the snow with loaders and trucks, we have the right piece of equipment to fit your needs.  Check with some of your neighboring businesses like Engis Corp., K&S Corp, Therm O Web Inc., BCDVideo, all leaders in their field and expect nothing but the best.  That is why all of them have over 25-35 years + as satisfied customers of our firm.  So if you are tired of not having the services your firm needs during Chicago winters when it snows, then why not give us a call today and see what A.J. Services can do for you!       
Learn more about our services:
New & Old Customers It' Will Be Back Here Comes Winter 10-1-2

PRESS RELEASE
FOR IMMEDIATE RELEASE
A.J. Services Professional Snow Removal & Ice Control receives 2016 Best of Lincolnshire Award
Lincolnshire Award Program Honors the Achievement
LINCOLNSHIRE May 19, 2016 – A.J. Services has been selected for the 2016 Best of Lincolnshire Award in the Snow Removal Service category by the Lincolnshire Award Program.
Each year, the Lincolnshire Award Program identifies companies that we believe have achieved exceptional marketing success in their local community and business category. These are local companies that enhance the positive image of small business through service to their customers and our community. These exceptional companies help make the Lincolnshire area a great place to live, work and play.
Various sources of information were gathered and analyzed to choose the winners in each category. The 2016 Lincolnshire Award Program focuses on quality, not quantity. Winners are determined based on the information gathered both internally by the Lincolnshire Award Program and data provided by third parties.
About Lincolnshire Award Program
The Lincolnshire Award Program is an annual awards program honoring the achievements and accomplishments of local businesses throughout the Lincolnshire area. Recognition is given to those companies that have shown the ability to use their best practices and implemented programs to generate competitive advantages and long-term value.
The Lincolnshire Award Program was established to recognize the best of local businesses in our community. Our organization works exclusively with local business owners, trade groups, professional associations and other business advertising and marketing groups. Our mission is to recognize the small business community's contributions to the U.S. economy.
SOURCE: Lincolnshire Award Program
CONTACT:
Lincolnshire Award Program
Email: PublicRelations@awardconnections.org
URL: http://www.awardconnections.org